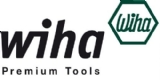 Wiha Tools
Avon House, Buntsford Drive
Stoke Heath
Bromsgrove
B60 4JE
---
www.wiha.com/england
Established in 1940, Wiha Tools has over 70 years of experience in the hand tool industry; design, manufacture and sales of high quality professional hand tools to people throughout the world. The UK sales office is situated in Stoke Heath (Bromsgrove).
2 customer reviews
Recently bought a Wiha torque screwdriver, and various blades to go with it. Its by far the best I've used in my 25 years in the building trade. Superb!
Absolutely bomb proof! You need these tools in your toolbox!