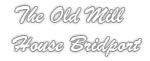 The Old Mill House
1 East Road
Bridport
DT6 4AG
---
Mon - Sun:
6:00-
---
---
www.theoldmillhousedorset.com
Formed in 2008, The OId Mill House has been providing a warm and welcoming atmosphere, a cosy bed and a delicious vegetarian breakfast for individuals throughout the UK and further (guests regularly come from Holland and the USA). Whether its one night, a weekend or a longer break required, The Old Mill House will do its best to accommodate in the sleepy, stress free town of Bridport in Dorset.
1 customer review
Old Mill House. Thank you for the great time at the Old Mill House! It is a really great and magical place. An amazing spot to rest, great hosts, great service with positive energy and a wonderful breakfast - probably the best I have ever had. Definitely a six star BB :). Marcin Kołakowski.