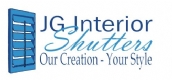 JG Interior Shutters
Unit 41 Waterham Business Park, Waterham
Faversham
ME13 9EJ
---
Mon - Sat:
09.00-18.00
Sun:
-
---
---
www.jginteriorshutters.co.uk
JG Interiors know the design of your home is important to their customers and choosing the correct window shutter design can dramatically transform the look and feel of any room. JG Interior Window Shutters through repeat recommendations, has many satisfied residential and commercial clients throughout Medway, Kent, London, Surrey, Sussex, South East and the UK.
JG Interior Shutters are specialists in window shutter design and to ensure every client will get the desired effect, The Design team will not only help to choose the right colour, style and product, but will install it with the care and attention to detail that clients have come to expect over the last 21 years.
Call a member of the team today to book a free no obligation home survey.
Key Products
Key Services
14 customer reviews
Very happy with the service. The girl that came to show us the designs was very friendly and not at all pushy. The fitting was completed without any fuss or mess. Very professional company. To say we are pleased is an understatement.
We had shutter fitted to the front of our hose on Friday and they look fantastic. They really make a difference to the overall look of the house. The fitters were friendly, fast and very tidy. We are really pleased with the finished result.
I was very pleased with my shutters, they exceeded my expectations. Nothing was too much trouble, even when I decided to change things at the last minute. Many thanks indeed.
We are very happy with the service we relieved from this company. The designer spent a lot of time with us and was very patient and not a bit pressurised. The fitter was very friendly and very clean. My friend across the road has placed an order too now she has seen the quality of the work and shutter.
We have just had plantation shutters installed to the rear of our home and we are more than delighted with the results. I have been impressed with the company's professionalism. The designer that initially came to give us a quote was very helpful and not at all pushy. The installation team too have done a great job. My girl friend is really pleased. (as am I)
We overall service received was excellent. The Shutters were of very good quality and the fitter was very tidy and professional. We are very pleased with the installation.
Blinds fitted to 4 windows. Curtains hung at 4 windows. The work was carried out to an exceptional standard. The fitter new his job and did not leave until i was completely satisfied. The blinds were an awkward fit and the fitter spent a lot of time making sure they were correct. All rubbish was cleared away.
Put simply, our shutters are superb, built to excellent standards, with a fitting service to match. JG's expertise, coupled with their professionalism and faultless service, makes me recommend them without hesitation.
We commend JG Interior Shutters & their staff on a very good experience from our initial inquiry to the final Installation. The professionalism and dedication of their staff matched the excellent quality of the shutters they have provided. I have passed their details on to my neighbours.
Shutters fitted on all our ground floor windows & doors. The initial advice, the quality of the workmanship and professional service - all top notch.
Robert Ellinor
Chatham
JG interiors carried out their work professionally and efficiently. I found getting a quote and having my shutters installed was easy and stress free. Will defiantly use JG interiors again when we redecorate the other rooms the shutters look fantastic! Would highly recommend this company.
I'd like to say a big thanks to JG Interior Shutters for not only providing us a beautiful and quality product, but also for their impressive customer service. The shutters are top quality and were fitted quickly, easily and professionally. I would not hesitate to recommend JG Interior Shutters to neighbours, friends and family.
I highly recommend JG Interior Shutters. The estimator came out and measured the bathroom window and discussed with me the colour and shutter style. The quality of the shutter they use is very good. I have another shutter in my home from another company that does not work very well and seems to be a lower quality by comparison. It took about six weeks to get the shutters because they are custom
made but it was well worth the wait. I really enjoyed working with this company and plan on having other windows in my home done by them.
Read More

Mark Ellinor
Gillingham
Our Plantation window shutters are out of this world, transforming the look of our rooms beyond all expectation. We was really impressed with the whole experience from the free survey and measurement service through to the installation. We will recommend jg interiors to all our friends