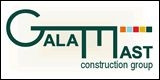 Galamast Construction Group
61A Cowper Road
Bromley
BR2 9RT
Since incorporating in 1991, Galamast has grown in the UK to employ circa 200 operatives with.
The company reputation built upon its core of Civil Engineering expertise. Galamast has therefore.
Built up strong working relationships with national companies such as Taylor Woodrow, Persimmon.
Homes, Charles Church Homes and Mc Donald's Restaurants. Through Galamast's long standing relationship with McDonald's Restaurants, Galamast have since diversified into shop-fitting and have been responsible for refurbishing a large proportion of the McDonald's estate in the last three years.
Through these two core business areas of Civil Engineering and shop-fitting, Galamast is well positioned to continue excelling in an ever changing construction environment.