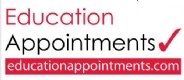 Education Appointments
Springfield House, 41-45 Chapel Brow
Leyland
PR25 3NH
---
Mon - Sun:
07:00-19:30
---
---
www.educationappointments.com

Education Appointments has over 18 years of experience in the education recruitment sector, and provides Teachers, Teaching Assistants, Cover Supervisors and Special Needs Support to Secondary Schools, Primary Schools, Academies and Special Needs Schools throughout The North West.
Key Products
Memberships
3 customer reviews
I am so lucky to have been given this great experience with education appointments. Having graduated in the summer, enrolled with education appointments 2 days later had an interview for the academy I'm at now and was accepted. I have been there and will be there for a full term now so have achieved my induction period into my NQT year. Thank you so much so very grateful and would recommend to
anyone.
Read More
Lyndsey Greenhalgh
Farnworth
I have been registered with Education Appointments for a few months now. I find them to be a very professional agency but friendly and approachable at the same time. I have had regular work from them and have always been paid on time.I would definitely recommend them to other supply teachers.
I have been registered with Education Appointments since September and would definitely recommend them to a friend if they were joining an agency. I have been on several jobs and the agency have always contacted me with as much notice as possible- plus it was handy to receive a text from them one morning with the address of the school I was going to in case I got lost! They are very easy to get
in touch with and I have not had any issues with being paid on time. Thank you!
Read More